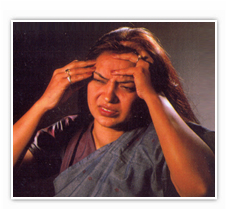 The link between migraine, the commonest headache seen in practice, and female sex hormones is well established. In pre-pubertal children, the incidence of migraine is equal in boys and girls. However, with the onset of menstrual periods and throughout childbearing years, the incidence of migraine in women is more than in men. It has been estimated that 70% of migraine sufferers are female.

Headaches in women have been related to changes in the levels of the female hormone estrogen during a woman's menstrual cycle. Estrogen levels drop immediately before the start of the menstrual flow. Hence the name menstrual migraine.

Birth control pills as well as hormone replacement therapy during menopause have been recognized as migraine triggers in some women.

Migraine headaches are well known to improve in most when they are pregnant but some the headaches may worsen or start immediately after delivery.